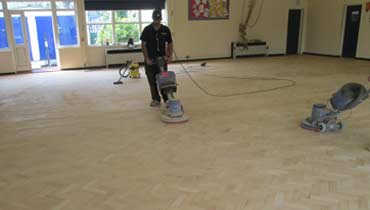 Wood Floor Sanding London is happy to be your guide in the flooring world, where complex terminology and ambiguous suggestions can confuse even the experts. We love it, when we find out that our commercial and domestic clients are as motivated as we are to explore all the possibilities the flooring market has to offer, not saving energy and time to achieve the best results, craving perfection.
That motivates us and keep us up to date, helping to improve our services and inspiring us to find alternative and successful ideas, making the utopian idea for professional service performance with an individual manner and a surprisingly nice price tag comes true. Being an advanced and innovative company doesn't mean only working with high-quality equipment and products. We also have the passion to explore and invent thousands of possibilities, suitable for every person's style and needs and making the flooring service experience remarkable for everyone.
We provide wood floor resurfacing, repairs and maintenance, suitable to everyone's busy schedule, budget and lifestyle. This is the reason our company is your best choice in London for commercial projects too. If you are on a hunt for a reliable and valuable crew, you've come to the right place.
Our experts can help you with:
Solid Wood Floor Sanding
Engineered Floor Sanding
Parquet Sanding
Stairs Sanding
Office Floors Sanding
Restaurant Floors Sanding
Sanding for Retail and Showrooms
Sanding for Clubs and Bars
School Floor Sanding
Solid Wood Floor Repairs
Engineered Floor Repairs
Parquet Floor Repairs
Wood Scratch Repair Service
Stairs & Banisters Restoration
Floor Boards Repairs
Wood Floor Cleaning
Wood Floor Polishing
Wood Floor Re-Oiling
Wood Floor Recoating
Wood Floor Staining