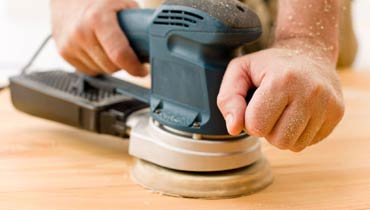 We provide professional wood floor sanding, repair and maintenance services, dedicated to our London domestic and commercial clients. We provide excellent, timely, efficient and affordable service, based on the accumulated knowledge and the positive client's feedback, which motivates us to improve our working policy and approach daily.
Our main goal is to provide personal care in a professional manner, in order to create the best battle plan for every project. We provide expert consultation and try to meet all the needs and desires of our clients. We provide great communication and respect to the personal style and uniqueness of everyone and every project. We gravitate around the idea of the individuality of every piece of wood and we always try to find the best way to take care of it. Our services are advanced and we always provide additional information on everything that may interest you or happens to be helpful.
Browse our website to find interesting topics, helpful price guides, a step-by-step guides of the provided services and professional tips and tricks. Our experts will reveal the best-kept flooring branch secrets. We provide great service performance and quick and hassle-free work. Our wood floor sanding professionals are specialised in solid wood, engineered wood, parquet and floorboards services for residential projects and also commercial buildings such as offices, restaurants, retail and showrooms, clubs and bars and school buildings.
Some of the most statement and signature wood floors in the area are made from Wood Floor Sanding London. Our repairs department technicians are known for their great restoration strategies, including only the necessary service stages. They can save even the most pathetic wood floors, stairs and bannisters. Our floor maintenance department staff provides not only excellent cleaning, polishing, re-oiling and re-coating performance but also a lot of additional information and advice for proper maintenance and care. Call today for a free quote - 020 70360625.
Very happy. Very good overall.
Wonderful job done. Quick and efficient. Very pleased.
Wonderful job done. Quick and efficient. Very pleased.