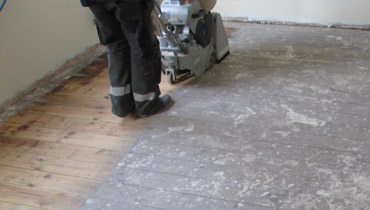 There are so many different wood flooring options the market offers us today, so it could be kind of confusing what to choose and what suits best your room. The truth is that most of the people, who don't do a consultation with a wood flooring specialist often buy the materials because of the style and the planned outcome they desire. However, when planning remodelling and installation, it is essential to take note of certain features and every expert can suggest you a successful floor fitting plan and preparation strategy.
First of all, you have to choose the flooring, depending on the subfloor to start with and the environment in the room, where the lumber will be laid. This is important to prevent eventual major issues such as dislocation, sun damage, high moisture levels and to make a special choice of materials and finishing products for high traffic areas. The second is the time and energy you could dedicate to your flooring. The proper floor maintenance will not only elongate the life-cycle of the wood but also will be effective in no time. We are in London to share with you all the knowledge we accumulated during the decades of experience in the branch and help you choose the right maintenance method. Our common suggestion is sanding because usually, this is the best you can do for your floor, no matter if it is solid wood, engineered wood, parquet or floorboards.
Why resurfacing is good?
Sanding is the process of removing the old, worn and dull finishing top layer from the surface of the bare wood, without affecting on and damaging the wood itself. This is super important, especially for types of flooring like engineered wood, because it consists of only a thin real wood top layer, but also because for real wood timber floor types, previously sanded poorly or too many times. Sanding will remove all the visible and invisible scratches and gaps from the surface and leave it extra sleek and smooth. Even the finest scratches and gaps can cause a wood cracking in feature if poorly treated, so the prevention here is your best friend! However, if the scratches and gaps are too deep, penetrating through the protective layer and damaging the bare wood, we provide quality and safe filler products, which will add decades to the life of the wood.
Why choose us to restore the natural beauty of your flooring?
Our company has a set of specially designed and selected strategies for every type of wood sanding, which are professionally done by our experienced specialists and come with an amazing price tag. Plus, we use a wide selection of modern and dust-free equipment and the best sealing, staining and refinishing products the market has to offer. Counting on the rich experience and knowledge base, our experts can handle with care even the most challenging sanding projects. Call today and get your free floor sanding quote - 020 70360625.
Served Areas
City of London, Westminster
Barking and Dagenham, Havering, Newham, Tower Hamlets
Hackney, Redbridge, Waltham Forest
Barnet, Enfield, Haringey, Islington
Bexley, Bromley, Greenwich, Lewisham, Southwark
Kingston upon Thames, Merton, Richmond upon Thames, Wandsworth
Ealing, Hammersmith and Fulham, Hillingdon, Hounslow, Kensington and Chelsea
Testimonials
Wonderful job done. Quick and efficient. Very pleased.