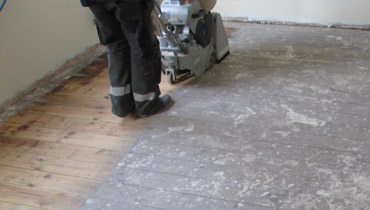 Selecting the right wood flooring for your space can be a daunting task with the multitude of options available in the market today. It's easy to feel overwhelmed when deciding what suits your room best. Many individuals, without consulting a wood flooring specialist, make their choices based on style and the desired outcome. However, for a successful floor fitting plan and preparation strategy, it's crucial to consider specific features. When undertaking remodeling and installation projects, consulting with an expert becomes invaluable. Our specialists in London not only guide you through the vast array of wood flooring options but also provide a tailored floor sanding plan to achieve the perfect finish for your space.
When embarking on the journey of selecting the right flooring for your space, the initial consideration should revolve around the subfloor and the environmental conditions of the room where the lumber will be installed. This is paramount in preventing potential issues such as dislocation, sun damage, and elevated moisture levels. Making a strategic choice of materials and finishing products, especially for high-traffic areas, becomes crucial. Another key aspect is the time and effort you are willing to dedicate to your flooring.
Effective floor maintenance not only extends the life cycle of the wood but also yields quick results. Based in London, we bring forth a wealth of knowledge accumulated over decades of experience in the industry. We are here to guide you through the selection process and offer insights into the right maintenance methods. Our steadfast recommendation is sanding, as it proves to be the optimal choice for various flooring types, including solid wood, engineered wood, parquet, and floorboards.
Advantages of floor resurfacing
Sanding stands out as a crucial step in revitalising your flooring, particularly when considering the nuances of types like engineered wood or real wood timber floors. The process involves skillfully removing the worn-out top layer, restoring the surface without compromising the integrity of the underlying wood. This is particularly vital for engineered wood, with its thin real wood top layer, and for real wood timber floors that may have been poorly sanded or undergone excessive treatments.
The significance of sanding lies in its ability to eliminate both visible and invisible scratches and gaps, leaving the surface exceptionally sleek and smooth. Even the subtlest imperfections can lead to future wood cracking if not addressed properly, making prevention a paramount ally. In cases where scratches and gaps penetrate the protective layer and affect the bare wood, rest assured, we offer top-notch filler products. These not only repair damage but also contribute to adding decades to the wood's lifespan while ensuring safety and quality throughout the process. Discover the transformative power of sanding with our expert services in London.
Why choose us to restore the natural beauty of your flooring in London?
When it comes to revitalising your floors, our company stands out with a set of specially designed and meticulously selected strategies for every type of wood sanding. Our experienced specialists execute these processes with professionalism, delivering exceptional results at an amazing price. What sets us apart is our commitment to using modern, dust-free equipment and the finest sealing, staining, and refinishing products available in the market.
With a wealth of experience and a robust knowledge base, our experts excel in handling even the most challenging sanding projects with precision and care. Transform your floors with our services and experience the rejuvenation of your space. For a free floor sanding quote in London, call us today at 020 70360625.
Served Areas
City of London, Westminster
Barking and Dagenham, Havering, Newham, Tower Hamlets
Hackney, Redbridge, Waltham Forest
Barnet, Enfield, Haringey, Islington
Bexley, Bromley, Greenwich, Lewisham, Southwark
Kingston upon Thames, Merton, Richmond upon Thames, Wandsworth
Ealing, Hammersmith and Fulham, Hillingdon, Hounslow, Kensington and Chelsea
Testimonials
Wonderful job done. Quick and efficient. Very pleased.