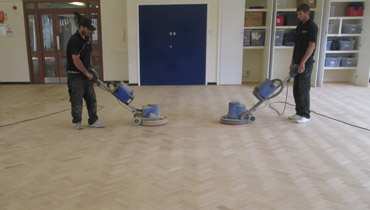 We provide excellent, precise and professional sanding and refinishing services for commercial projects. Big areas can't scare us! It's more like a challenge we handle with care and joy. We take this as a great way to show our potential and knowledge on a big canvas and to improve our work even more. Part of our services we are especially proud of is commercial floor sanding in the London area. We have a rich portfolio and a lot of positive client's feedback to work for our good name on the local market.
Sanding large-scaled areas reveal our real passion for wood floor maintenance. The amazing visual results come because of the hard work of our reliable team, the organisation we have, the quick and really effective job we do and the knowledge of how to deal properly with every type of wood when it comes to sanding service. And all this we offer to you even if on a low budget because we designed a special system of selecting only the necessary and important services without an additional and meaningless job, which only increase the price.
Wood Floor Sanding London offers you commercial floor renovation even during some holidays, so we won't interrupt your working process. However, we can work also during working time, because we provide hassle-free, quick and effective services. Even in this case, when time presses us, we don't neglect important stages of the process. The first step is to provide you with a free site visit so we can inspect and diagnose the flooring. Preparation is important for the best outcome. We will suggest the proper sanding strategy, depending on the type of wood, the degree of the damage, the power of the traffic, the previously applied finishing product and the number of previous sanding services. If your construction is in really bad condition, we provide extra repair service, to create a super durable and solid surface to work with.
For the sanding itself, we use a wide selection of completely dust-free equipment, which makes the process even more efficient and timely. We provide furniture and doors translocation and dust sheets for the windows for extra care. Once we are happy with the result and we have a smooth and even surface to work with (we never rush out and even provide hand sanding for challenging areas), we are ready for the finishing touch – the floor sealing and staining. You can choose finishes and natural pigments you desire and we ensure you we always use high-quality products. Call us now for a free commercial floor sanding quote in London on 020 70360625!
Served Areas
City of London, Westminster
Barking and Dagenham, Havering, Newham, Tower Hamlets
Hackney, Redbridge, Waltham Forest
Barnet, Enfield, Haringey, Islington
Bexley, Bromley, Greenwich, Lewisham, Southwark
Kingston upon Thames, Merton, Richmond upon Thames, Wandsworth
Ealing, Hammersmith and Fulham, Hillingdon, Hounslow, Kensington and Chelsea