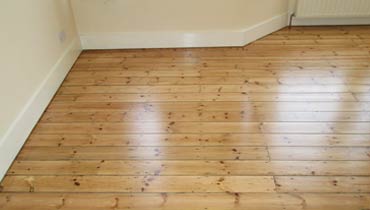 The time and everyday use leave their distressing traces on even such a solid thing as the flooring's surface. Wood is an amazing material option, because it is not only beautiful and adds elegance and class to the room, but also low-maintenance and pretty durable. However, when not treated and cleaned properly, or if exposed to high traffic, sun damage, aggressive environment, the wood material tend to lose its quality over the years. Most of the time it is pretty impossible for the untrained eye to detect small flooring issues, which have the potential to grow into major problems. We often see only the visual site and relax by the image of the glossy and pretty surface, but we couldn't know what really happens beneath the surface.
Often people come to Wood Floor Sanding London to ask for floor repair service when the issue is already in an advanced stage of development. Of, course we can handle even the biggest problems, but floor repair, in that case, tend to be more expensive, time-consuming and complex. Wood Floor Sanding London professional advice is to book a restoration appointment in London when the first signs of an issue pop out, so we can help you quick and effortless. Asking us for help give you the amazing opportunity to get an advantage of our special offers like a free estimate and site visit. This way our technicians will diagnose the condition and find the best solution and repair strategy.
Here is a shortlist of the floor repair services we provide in London. Check it out to get more information on what our services consist of and how we can help you. Here we will advert the most common issues, so you can find helpful suggestions.
Scratch repair is one of the most common booked services in London. It is because our clients are not pleased with the complete look of their installation, but the scratch repair is more than just a cosmetic change. Wood floor sanding is perfect for removing fine scratches in the protective layer of the flooring, but in case your installation suffers deeper scars, which penetrate through the finish and affect the bare wood, you need restoration. We use quality fillers to bring back the sturdiness of the wood and that way we prevent the surface from eventual wood cracking.
Gap filling is almost the same process as scratch filling. Keep in mind that there should be structural gaps between the planks and the walls. That way the wood is allowed to shrink or enlarge due to humidity and not crack. However, any other gaps besides the structural and the natural ones, which came with the real wood texture are adverse and we fill them with a natural mixture of wood dust and putty.
When parts of the flooring are way too damaged to be safe, we provide as a part of our service removing only the distressing spot. Don't worry, even for the complex parquetry patterns, we can find the perfect match so you won't notice any difference.
Finally, we end up each floor repair project in London with sealing with quality products, specially selected to work the best with every type of wood. Sealing will not only add a lot of strength and durability to the construction but also prevent the surface from wear and tear and discolouration.
Served Areas
City of London, Westminster
Barking and Dagenham, Havering, Newham, Tower Hamlets
Hackney, Redbridge, Waltham Forest
Barnet, Enfield, Haringey, Islington
Bexley, Bromley, Greenwich, Lewisham, Southwark
Kingston upon Thames, Merton, Richmond upon Thames, Wandsworth
Ealing, Hammersmith and Fulham, Hillingdon, Hounslow, Kensington and Chelsea
Testimonials
Very happy. Very good overall.