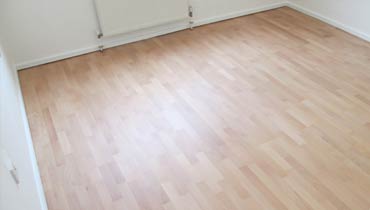 The proper wood floor maintenance is the key to the long life and beauty of every wooden installation. Heavy-duty services like sanding and sealing can save your floor if it is in really bad condition. But you can't count on them for annual care, because they are more expensive and are bad for the flooring if done every year. However, wood floors are low-maintenance. Following certain simple expert advice on how to take care of them and hire a specialist to recoat them yearly, you will enjoy your owning for decades. We are glad to provide all our clients in London with professional care advice for completely free. Our technicians will create a perfect every day or weekly cleaning strategy - saving you energy, time and money. Wood Floor Sanding London also provide excellent floor maintenance service in London.
Cleaning is usually your daily task, but it is not that easy. There are certain specifies, bound to the wood floor maintenance, which requires knowledge and attention. Once we show you the proper cleaning plan you should follow for best results, you can enjoy daily floor cleaning, which requires less time and obligations and be sure you do the best for your wood installation. Our cleaning team in London will take care of your flooring. We remove the dirt build-up deep in the wood's pores with powerful vacuuming machines, which won't damage or scratch.
Then, we will use specially designed wood cleaners, depending on the finish you have. Knowing your finish is really important so you can treat it the proper way, without damaging like discolouration, product or wax build-ups, worn finish, slippery surface etc. If you are in doubt about what your finish is, or need expert information on which products to use for your project, contact our professional cleaning team. In addition, we will give you great floor maintenance advice, depending on the type of wood and the finishing layer. For example – you can't use water, because you will ruin the finish and the bare wood. You have to vacuum often or use a soft broom to prevent dirt and dust build-up, you can't use vinegar or ordinary cleaning products, etc.
Polishing is good for your floor every two to four months, according to the experts. It will not only make your floors super clean and shiny but also give them extra durability by filling the fine scratches and small gaps and to prevent the wood and the finish from damaging and high traffic. It is also a quick and affordable process, especially because we use quality products with fast dry time and without creating build-up. Polishing works the best for polyurethane finished installations (the glossy ones), but we also offer great re-oiling and recoating services in London.
Re-oiling is better done every few months. The oil finishes look great and allow the bare wood to show its natural beauty and texture, preventing it at the same time. However, the oil-finished floors need some extra maintenance. After a little bit of screening and then re-oiling, Wood Floor Sanding London's team will provide buffing for best results and longer life of the oiled coats. Recoating is way more affordable and timely because it means reapplying a new finish on the previous one, without the need for sanding. Recoating is great because it will bring back the previous beauty of the floor in no time, saving the most worn areas.
Served Areas
City of London, Westminster
Barking and Dagenham, Havering, Newham, Tower Hamlets
Hackney, Redbridge, Waltham Forest
Barnet, Enfield, Haringey, Islington
Bexley, Bromley, Greenwich, Lewisham, Southwark
Kingston upon Thames, Merton, Richmond upon Thames, Wandsworth
Ealing, Hammersmith and Fulham, Hillingdon, Hounslow, Kensington and Chelsea