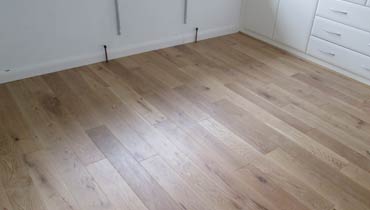 Engineered wood material looks and feels almost like solid wood, but because it is a manufactured product it is even more sturdy and durable. Engineered wood is made from several lumber layers glued together crisscrossed for maximum strength and long-lasting power. However, engineered wood also suffers from high traffic and aggressive environment and can lose its previous beauty and sturdiness. Flooring issues and damage causes can vary. Our expert team has the best-engineered wood restoration service in London, consisting of a special selection of services and stages, all suitable for engineered wood material and working for floor's long life-cycle and beautiful finish.
We believe that our clients have to know our engineered floor repairs strategy, so we provide a free consultation and site visits in London. That way together we will discuss the problem and the prevention plan and our clients will have the chance to make an informed choice and we will meet realistic expectations. Although we always want to fulfil our customer's desires, our main priority is to find the best solution, which will work for your project in the long term. Here is a shortlist of our main repair services for engineered floors in London. Feel free to contact our customer service anytime on 020 70360625 to ask for additional information.
Scratch repair and gap filling are one of the most frequently asked services we provide in London. Finer scratches and smaller gaps are usually not that alarming for the floor's condition, they affect the visual part. Deeper gaps and scratches, however, penetrate through the protective finishing layer and damage the bare wood surface. Because engineered wood planks are made with only a thin real wood top layer, scratch repair, gap filling and sanding tend to be a challenge. With thickness from 4 to 8 mm, we have to delicately remove the issue, without distressing the thin wooden layer. For non-structural gaps, we provide quality fillers to create a smooth and durable surface and prevent the wood from cracking.
Often due to humidity and aggressive environment, engineered wood planks get thinner and squeaky and the finish wears off quickly. Our engineered floor repair service comes once again in hand in London area. If the engineered planks and nails are loose, we fix the problem by hand. Also, we use high-quality wood adhesive to guarantee constructions, which will last you forever.
Sometimes after room repair and moving furniture certain parts of the flooring are left pretty distressed and damaged. In that case, the whole renovation can be completely unnecessary, because Wood Floor Sanding London experts can remove only the damaged planks and save you a lot of costs. We will find the perfect match to the missing part, without differentiating the existing pattern and dimensions.
Finally, sanding and sealing are the best finishing touch of our engineered floor repairs service in London. Because of the thin wood top layer, sanding tends to be challenging, but we provide excellent results. Sanding is recommended not only for worn and scratched floors but also for newly installed ones because it creates a perfectly smooth and sleek surface.
Served Areas
City of London, Westminster
Barking and Dagenham, Havering, Newham, Tower Hamlets
Hackney, Redbridge, Waltham Forest
Barnet, Enfield, Haringey, Islington
Bexley, Bromley, Greenwich, Lewisham, Southwark
Kingston upon Thames, Merton, Richmond upon Thames, Wandsworth
Ealing, Hammersmith and Fulham, Hillingdon, Hounslow, Kensington and Chelsea