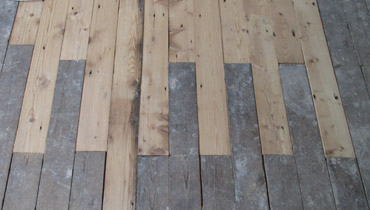 Solid wood floor repairs may involve a wide range of activities from a rough job such as replacing planks, gap filling, sanding and sealing to more detailed and precise work such as refinishing and staining. Wood Floor Sanding London offers the whole list of floor repair services for solid wood planks in London area, based on our expert team years of experience the branch and thanks to the high-quality hardwood repair products and materials.
Part of the solid wood floor's beauty lies in its natural irregularities. Scratches, dirt and damage, on the other hand, are an actual problem that needs repair activities. Problems like this can not only take a lot from the installation's beauty and representativeness but can also cause further problems like loose planks, thinning surface when your hardwood construction will lose its durability and solidness. No matter what your problem consists of, we can always find a solution thanks to our service long list in London and surrounding areas.
Our repair service starts with free site visits. That way we have a closer look at the condition, what your problem consists of and what the perfect solution will be. We also provide help in the preparation process and move everything out of the room, including furniture, decorations, etc. Most of the repair procedures are messy, especially if sanding is needed. Although our workers always use modern equipment, which is almost completely dust-free, we want to ensure by covering doors and windows with dust sheets.
Here is our list of repair activities, where you can find a solution for every problem. Keep in mind that usually not every single step is needed. Wood Floor Sanding London never offers unnecessary services.
We can replace any loose boards and replace damaged ones without creating disharmony in natural patterns and levels of the newly installed boards. We will hammer down any nails heads popping out from the surface to create a smooth and levelled surface for the upcoming sanding.
Gap filling is another part of the restoration process and consist of filling different sized gaps with a mixture of wood dust and high-quality putty or different sized wood strips. Gap filling should be done before sanding.
Sanding stripping and buffing are other options. Solid wood can be sanded every few years but why not save yourself extra money and hassle. Our team will do the best job in London area to ensure the long life of your flooring.
Sealing and staining are the finishing processes of the solid floor repair system. Refinishing your installation will not only bring it back to its previous glory and beauty but also create a protective layer to prevent the wood's top layer from damage, scratch, etc.
Our solid wood floor repair services come with free estimate and site visits in London area. Contact us on 020 70360625 or info@flooringservices.london.
Served Areas
City of London, Westminster
Barking and Dagenham, Havering, Newham, Tower Hamlets
Hackney, Redbridge, Waltham Forest
Barnet, Enfield, Haringey, Islington
Bexley, Bromley, Greenwich, Lewisham, Southwark
Kingston upon Thames, Merton, Richmond upon Thames, Wandsworth
Ealing, Hammersmith and Fulham, Hillingdon, Hounslow, Kensington and Chelsea