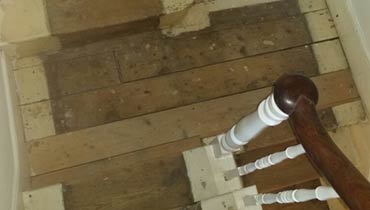 Wood floor repair projects can be pretty time and financial consuming and we often forget that our staircases also need some attention and care. We keep forgetting to rate when the stair flooring issue is already too serious and we need restoration service as soon as possible. Then flooring services are expensive and time-consuming, but let's be real, the bigger the problem is, the more steps and stages the service will be, which increases its cost. Our experts have a great suggestion for you – let us inspect your stairs and bannisters with a free and no-obligation site visit in London. In case we find something to worry about, we will offer you affordable, timely and effective stairs and bannisters restoration.
As it comes to the wood flooring, damage causes by stairs and bannisters can have various nature and degree of affection. You definitely don't want to neglect stairs and bannisters issues, because staircases are a high traffic point and one of the most functional parts of your interior architecture. Let us share with you the most common stairs and bannisters issues and how we handle them. In case you feel like you need more information, you can always contact our customer service on 020 70360625 and be sure you will get adequate and professional advice as soon as possible.
Scratches are one of the most common issues, which stairs and bannisters meet. Scratches and gaps not only ruin the beautiful appeal of the overall staircase impression but also can grow quickly into major problems like loose and squeaky stairs and cracking wood. We provide a great scratch repair like a part of our stairs and bannisters restoration service in London. Finer scratches we will treat with mineral spirits to remove the damaged protective finishing layer and apply a few coats of quality finish, which is high traffic resistant. However, for deeper scratches, which affect the wood's surface, we provide sanding, gap and scratch repair with natural and quality putty filler and once again refinishing with long-lasting sealants. In addition, we provide sanding, sealing and staining to the bannisters for overall perfect results and staircases, which look and feel like brand new.
Wood Floor Sanding London stairs and bannisters restoration service is your solution for squeaky and loose stairs. They can get squeaky and loose because with time the wood gets thinner, because of the high traffic, worn finish, aggressive environment. Another reason can be a poorly done installation. When the wood adhesive is bad quality or the treads and the risers are sanded too many times and too aggressively, the wood gets in bad condition very quickly. Don't worry, our professionals will handle these problems for you. In the worst case, you may need removing of the damaged stairs and bannisters, but we won't ask for expensive full remodelling if your staircase doesn't need it. We can remove locally only the damaged stairs and find the perfect match.
Contact our experts for more free information on proper prevention and great maintenance service!
Served Areas
City of London, Westminster
Barking and Dagenham, Havering, Newham, Tower Hamlets
Hackney, Redbridge, Waltham Forest
Barnet, Enfield, Haringey, Islington
Bexley, Bromley, Greenwich, Lewisham, Southwark
Kingston upon Thames, Merton, Richmond upon Thames, Wandsworth
Ealing, Hammersmith and Fulham, Hillingdon, Hounslow, Kensington and Chelsea