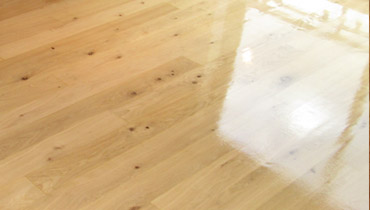 Wood floor polishing is part of Wood Floor Sanding London's cleaning and maintenance service and it is a great option for polyurethane finishes. This type of finish makes the surface glossy and shiny and even the finest scratches get more visible and ruin the overall impression. So floor polishing is a great option if your wooden installations look dull and worn because every year polishing can create the effect of refinishing and sanding, without the higher cost of these time-consuming services.
Oiled or lacquered floors may need waxing and re-oiling instead of polishing, so better count on experts to find the best solution, depending on the type of wood and the prior finish. Wood Floor Sanding London's expert team provides free site visits and consultation in London. In addition, after the polishing service, our experts will provide you with more information on the proper maintenance and cleaning methods to elongate the life of the wood and the finishing coat.
Polishing is great not only because of the amazing visual result but also because it adds extra durability and protection to the wooden structure. The prior screening will even out the surface, removing fine scratches and gaps in the finishing layer also dirt build-ups and make it smooth. The polishing product, on the other hand, can work like putty and fill the deeper scratches, which make the wood layer even more solid and sturdy and prevent eventual future damaging. According to the specialists, wood polishing recommended every two to four months. You can always count on us for quality floor polishing in London on affordable prices and with timely and professional manner.
Polishing is also a good option for your daily or weekly cleaning routine. Polished floors are way easier to clean and don't collect as much dust and dirt. Simply vacuum daily or every other day, depending on the environment and the traffic through the room and mop with a damp mop weekly. Before starting with the polishing service, our experts provide professional cleaning to ensure the construction is completely clean and ready to be polished. Our crew will also translocate the furniture without causing scratching.
As a team with many years of experience in the branch and a lot of accumulated knowledge, we know the best and quickest methods for wood polishing, providing the perfect result you expect. For example, we work in small portions on the floor. That way we can pay extra attention to every detail. We always have an individual approach to every project in London and work according to the specific needs and desires of our clients. Also, we use the best products the market has to offer and that way we ensure best results, pleased clients and a guarantee for our services.
You can always ask our experts for more information on 020 70360625 or info@flooringservices.london.
Served Areas
City of London, Westminster
Barking and Dagenham, Havering, Newham, Tower Hamlets
Hackney, Redbridge, Waltham Forest
Barnet, Enfield, Haringey, Islington
Bexley, Bromley, Greenwich, Lewisham, Southwark
Kingston upon Thames, Merton, Richmond upon Thames, Wandsworth
Ealing, Hammersmith and Fulham, Hillingdon, Hounslow, Kensington and Chelsea