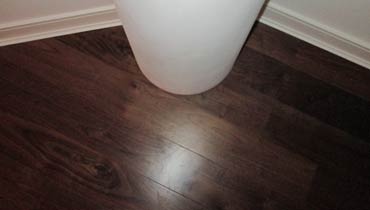 Wood floor recoating gives the results of refinishing, but at a way more affordable price and for so much less time. Our clients often mistake recoating and refinishing, because flooring specialists rarely provide enough information and use complex terminology the ordinary clients can't assimilate enough successful to make a completely informed choice and to have realistic expectations. We are here to reveal all the flooring secrets for our London clients. Also to suggest expert advice, tips and tricks and to offer a completely free quotation and site visits, so our technicians can inspect your installation's condition and create the best working floor recoating plan.
Recoating is the process of simply applying a fresh coat of wood floor finish, without sanding the previous one. This means that recoating is great for floors in fairly good condition with fine scratches and worn areas. This is good news for our clients because now you can breathe a new life to your floor, without purchasing more expensive and time-consuming services such as floor sanding and sealing.
Recoating will add a fresh new and clear coat to the floor, extra durability and solidness for the high traffic points. Although recoating has to be compliant to the prior finish underneath, for many projects our experts can offer a completely new look, texture, effect and colour. Thanks to the wide natural and quality dyes and finishing products selection Wood Floor Sanding London works with, wood floor recoating can create new and exciting outcomes, or simply highlights the genuine beauty of the wood, depending on the desires of our clients.
Even if you have a successful daily cleaning routine, the finish gets worn, dull and dirty with time. So recoating is your perfect annual maintenance option, according to the highest standards in the flooring business. Wood Floor Sanding London experts provide caring consultation with professional manner and individual approach, so they can inspect the floor and suggest the best alternatives, depending on the existing finish. If we try to recoat with a different type of finish, the product, most common, won't adhere properly and you won't get the desired clean and sleek effect.
Our team will clean professionally the flooring before starting with the recoating service. Cleaning and buffing will remove the dirt build-up, evening out the surface, removing stubborn stains and preparing for the new layer. The quality finishing products we use will not only add shine but also fill the fine scratches and gaps in the previous finishing layer and make the surface more durable and smooth.
Served Areas
City of London, Westminster
Barking and Dagenham, Havering, Newham, Tower Hamlets
Hackney, Redbridge, Waltham Forest
Barnet, Enfield, Haringey, Islington
Bexley, Bromley, Greenwich, Lewisham, Southwark
Kingston upon Thames, Merton, Richmond upon Thames, Wandsworth
Ealing, Hammersmith and Fulham, Hillingdon, Hounslow, Kensington and Chelsea