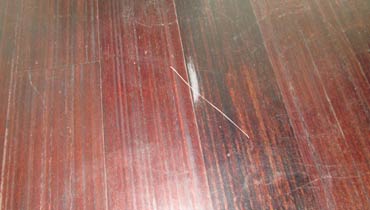 Wood scratch causes can have a different nature, but the results are always the same – unattractive, worn and dull flooring no one would like to have at their home. Well, this is only the top of the iceberg, because scratches not only affect the beauty of your wooden floor but also can be a sign of a growing issue. Finer dents are the better option, caused by high heels, furniture translocation and pet nails. In that case, scratches affect only the surface, which is the protective finishing layer. Yes, they may look bad, but at least usually they don't cause serious problems.
However, sometimes the scratches are so deep that they penetrate through the finishing layer and affect the bare wood underneath, which is a pretty bad juncture for your flooring and for you. Especially in high traffic areas, where the finishing layer is worn and not renewed soon, the chance the wood gets damaged increases. Don't worry, because we have good news for all our clients! Our wood scratch repair service can handle every issue for every type of wood flooring, from parquet, engineered and solid wood to floorboards and stairs and bannisters! Contact us and ask for our wood scratch repair service in London, instead of starting to plan a super expensive and time-consuming remodelling project.
Don't rush to blame your pets and children for the dents! Scratches can pop on the floor's surface for so many reasons. For example, if the installation is exposed for longer on high traffic, high-temperature amplitudes, sun damage, etc. the wood gets thinner with time and starts to crack. It is really important for structural gaps to be left during fitting also and the subfloor beneath to be completely dry because moisture can also cause loose planks and cracking and these are the reasons for scratches. We think that floor scratches exist not only because of outside causes but also because of inside processes and that is the nature of the wood. However, for an untrained eye, it is hard to spot the difference and that is the reason we provide free site visits in London, so our technicians can inspect and find the perfect wood scratch repair service strategy.
Here is how we deal with the wood scratch repair service in London. First of all, we find the causer of the problem and find a solution to prevent future issues. Our experts will share with you great maintenance tips for prevention. Then we inspect the nature of the dents. If they are micro ones and affect only a part of the wood flooring, we treat them with mineral spirits to take off the finishing layer local, provide hand sanding if needed and then apply few coats of the new finish. Even for parquet wood scratch repair services, we make the refinishing invisible, so you can't tell any difference.
However, if the flooring is in bad condition and needs refinishing, we provide excellent floor sanding service and then sealing with quality and hard wear of products. Lastly, if the scratches are really deep and affect the wood's surface, we provide even more precise and long-lasting performance in London with our wood scratch repair service. Our experts will apply a mixture of wood dust and quality putty to fill the scratches and gaps for extra solidness, then sand the floor for an even and smooth finish and lastly, apply few coats of a long-lasting and durable protective layer to prevent future issues.
Served Areas
City of London, Westminster
Barking and Dagenham, Havering, Newham, Tower Hamlets
Hackney, Redbridge, Waltham Forest
Barnet, Enfield, Haringey, Islington
Bexley, Bromley, Greenwich, Lewisham, Southwark
Kingston upon Thames, Merton, Richmond upon Thames, Wandsworth
Ealing, Hammersmith and Fulham, Hillingdon, Hounslow, Kensington and Chelsea