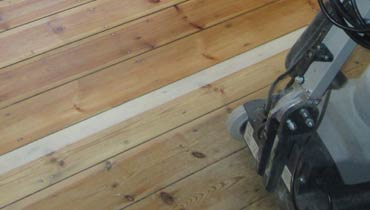 It is not a secret for anyone that the attractive office environment makes the working process more pleasant and most important – it is a sign of professionalism and competence for the clients, so they can trust you. We can help you create this special ambience for your office in London. The best thing you can do to pamper your office flooring, which daily suffers high traffic is to get an advantage of our office floor sanding service. We provide excellent performance and amazing results without breaking the bank!
We are glad we can work with professionals our commercial clients are. Your professional approach motivates us to improve our services. Also, the way to react to the positive feedback from your pleased clients is the equal way your testimonials make us proud and give us a good name in the London flooring market. So, for every commercial project we start, we try to achieve professionalism, especially when it comes to sanding an office flooring.
The sanding process is our favourite part because it has the power to completely change even antique looking installations you already lost hope in. It is the most visual part of our hard work with the most impressive results. We achieve impressive and breathtaking results because we base our office floor restoration projects in London on a lot of experience and knowledge we've managed to accumulate during the years we are on the market.
What is office floor renovation? If you wonder, we are always here for you to answer all of your questions, just contact us on 020 70360625 or via the contact form of our site. We will try to explain to you why our London sanding projects are always successful. We designed a special sanding system, which combines timely, efficient job, professional performance and affordable prices all in one.
That means we provide our commercial clients with great solid, engineered, parquet office sanding, sealing and staining services. Since time often presses us when it comes to commercial projects and our goal is to not interrupt your working process, we exclude all unnecessary and meaningless stages of the service so we can pay more attention to what is really important and effective. That way, we managed to reduce the price of the sanding service, so it is completely budget-friendly.
Our experts bet only on high-quality sealing and staining products and we choose the natural products alternatively. That way we ensure the safety of your workplace for all workers and visitors. Another plus is that we use really hard to wear-off products, which guarantees the long life of the wood even if high traffic areas.
Browse our site or contact customer service for more information. Also, check out the expert maintenance advice we give and look through our blog with commercial cleaning and maintenance services for annual flooring care. Call on 020 70360625!
Served Areas
City of London, Westminster
Barking and Dagenham, Havering, Newham, Tower Hamlets
Hackney, Redbridge, Waltham Forest
Barnet, Enfield, Haringey, Islington
Bexley, Bromley, Greenwich, Lewisham, Southwark
Kingston upon Thames, Merton, Richmond upon Thames, Wandsworth
Ealing, Hammersmith and Fulham, Hillingdon, Hounslow, Kensington and Chelsea