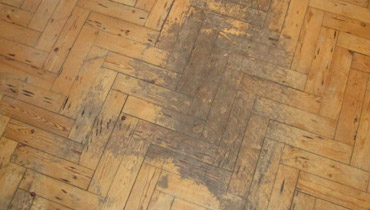 Parquetry is probably the most beautiful type of wood installation, because of the variety of patterns and designs, which make such a type of floor a statement piece in every room. However, mosaic installation tends to be challenging when it comes to sanding and parquet repairs. For example, because of the different directions of parquet blocks installation, sanding is pretty precise and detailed, often made by hand in inaccessible angles and for stubborn scratches and stains. Parquet floor repair also needs extra attention, because with any further treatment the risk of losing the art line of the pattern and the dimensions are potential. So, if you plan to repair your parquetry in London, you better hire professionals, because the expert approach will save you time, money and eventual problems.
Even the slightest and finest scratch or gap is better treated by experienced and well-trained technicians because it quickly can grow into a massive issue. It is not only because we have years of experience in the branch or because we use only quality and modern low-dust equipment and filling and sealing products, but mostly because we have an individual approach to every client and to every need of the project. No more price hacks, no more unnecessary services, no more promises for long-lasting treatments, which actually last only a month. Wood Floor Sanding London is here to really help you!
Here is a quick tour through the main stages of the parquet repair services we provide in London. If you feel you need more information, our experts will be always here for you to give you expert advice and consultation for completely free. Just give us a call - 020 70360625.
Prior inspecting is the key to every successful and well-organised parquet floor repair strategy. Our technicians offer a special free site visit in London to diagnose your parquetry's condition and find the best solution to the existing issue.
Wood Floor Sanding London provides excellent scratch repair and gap filling service also. Besides the structural gaps, which are left during installation to allow wood movement without cracking, we will use a high-quality filler for deep scratches and gaps, which penetrate through the protective top layer, making the imperfections totally invisible and creating a solid and durable parquet installation.
Parquet sanding is another stage of the repair service. As we already said, sanding is a challenge when it comes to parquetry, but our professionals have enough experience and knowledge for the best performance. After sanding you will end up with a completely smooth and sleek bare wood surface, which works as a blank canvas for the upcoming sealing and staining. Parquet sealing is good to make the wood flooring even more sturdy and extend its life. We will choose the best finish for your floor, among the great selection of quality products we provide.
Finally, a spot or patch with big damage doesn't always mean a whole floor remodelling. Our experts will remove only the damaged blocks if possible and find the perfect match to the surrounding flooring. Affordable and timely!
Served Areas
City of London, Westminster
Barking and Dagenham, Havering, Newham, Tower Hamlets
Hackney, Redbridge, Waltham Forest
Barnet, Enfield, Haringey, Islington
Bexley, Bromley, Greenwich, Lewisham, Southwark
Kingston upon Thames, Merton, Richmond upon Thames, Wandsworth
Ealing, Hammersmith and Fulham, Hillingdon, Hounslow, Kensington and Chelsea