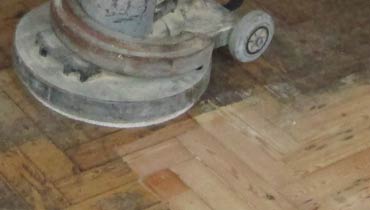 Get the sleek, smooth and glossy finishing touch for the floor and welcome your clients in a completely renovated ambience. Half of the joy when visiting a restaurant is the cosy, clean and pretty design you can offer to your clients. You know what they say – people consume also with their eyes. Now you can digest even the fancier customers by providing them not only great cuisine but also a stylish and elegant restaurant environment - completely effortless with our professional restaurant floor sanding services in London.
What is actually sanding? We can compare the service to the preparation of the perfect dish - you need high-quality products, well-trained and experienced staff and the right proportions of every additional spice. Sanding could be really spicy and challenging, because of many reasons: not enough time, low budget and flooring in really bad condition. We at Wood Floor Sanding London can handle even the most bitter situation like a piece of cake!
We designed a special restaurant floor restoration strategy for maximum results in minimum time. Thanks to the dust-free wide selection of equipment we use and the high quality and completely safe products, we create an attractive construction with smooth, sleek and durable surface and high traffic-resistant finishing layer. It looks like building one by one the components of a beautiful cake, doesn't it?
Now, we know that each spice doesn't match every dish. The same goes for sanding. Every sanding strategy depends on the type of wood flooring, being solid or engineered wood or parquetry. That is the reason we provide a selection of sanding methods for restaurants, equipment and products the same way you try to find the perfect spice and sauce to every dish for a finger-licking effect. Parquetry is capricious, because of the mosaic patterns and complex designs.
We call it an exquisite dish, because it requires extra attention and care, dealing with the different directions of the installed blocks. Solid wood sanding reminds of a Tuscany plat – simple yet impressive, ready to make wonders when prepared with quality products. Engineered wood is like a vegan dish – it may not include real proteins, but it is also nutritious. It may not be a completely real wood product, but with the help of our floor restoration at the end you have an amazing looking floor, without any sign of scratch, gaps, wear and tear and old and dirty finish!
Contact our customer service on 020 70360625 or via our site form for more information!
Served Areas
City of London, Westminster
Barking and Dagenham, Havering, Newham, Tower Hamlets
Hackney, Redbridge, Waltham Forest
Barnet, Enfield, Haringey, Islington
Bexley, Bromley, Greenwich, Lewisham, Southwark
Kingston upon Thames, Merton, Richmond upon Thames, Wandsworth
Ealing, Hammersmith and Fulham, Hillingdon, Hounslow, Kensington and Chelsea