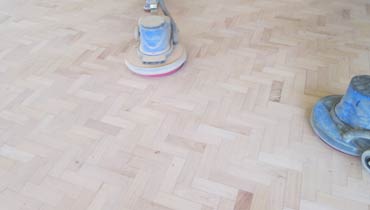 Do you remember the beautiful herringbone parquetry from your school years? Believe it or not, it still exists in the beautiful London school buildings. This is definitely a surprise that wood flooring can survive so many years of enthusiastic young feet traffic, constantly moving tables and chairs, a lot of sports activity in the big halls, the eternal food and drink stains and spillages. Yes, young and energetic people are the flooring's nightmare and turn antique wood is scratched, dull and worn disaster.
Schools nowadays provide community meetings and different activities at the weekends, holidays and after-school time. That means the already high traffic and aggressive environment doubles. Well, don't worry, the flooring apocalypse is still far away when you have us in your area because we provide the best sanding service for school wooden floors in London!
We provide excellent organised sanding service, fully consistent with the school schedule so we won't interrupt the working process in the building. You can also book a service during the school holidays. Working with limited time could be stressful and challenging, but we won't rush out of our job, missing important stages for the project. After a prior free site visit and expert consultation, we will inspect the condition and create the best working plan, which will suit the needs of the project. That means we will exclude all the unnecessary steps and select only the best for a timely and efficient presentation. Also, that way we will save the school administration some costs, so they can invest the additional finances to other projects.
With the rich history of London it is not a surprise you can still find a lot of parquetry in the school buildings. Parquet flooring was a popular choice for commercial buildings back in the days when wood material wasn't that expensive. Nowadays architectures usually use a cheaper option when planning a school renovation. Engineered wood or sometimes even solid wood floors because of their solidity, although real wood timbers aren't an affordable option. No matter what type of installation we will find in your school building, we provide high quality sanding service with attention to the individual needs of every type of construction.
In addition, we offer great sealing and staining services for even better long-lasting and durable effect. After the sanding procedure, we use the latest generation of wood finishes and sealants. Completely safe, long-lasting and resistant to high traffic and wear and tear and create a smooth, hygienic wood surface. It is really important for the school's interior choices to be low-maintenance and easy to clean because the daily cleaning strategy of the school crew just isn't enough and you often end up in need of heavy-duty commercial floor cleaning.
Served Areas
City of London, Westminster
Barking and Dagenham, Havering, Newham, Tower Hamlets
Hackney, Redbridge, Waltham Forest
Barnet, Enfield, Haringey, Islington
Bexley, Bromley, Greenwich, Lewisham, Southwark
Kingston upon Thames, Merton, Richmond upon Thames, Wandsworth
Ealing, Hammersmith and Fulham, Hillingdon, Hounslow, Kensington and Chelsea