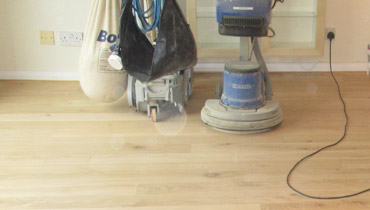 Engineered wood flooring is a great investment. It looks and feels like real wood, but because it is a manufactured product made from a thin real wood top layer, it is more affordable. Engineered wood planks are made from several crisscrossed layers of plywood and lumber materials which makes them super solid, durable, damage and moisture resistant. Another plus is that they are a low-maintenance product and don't require extra attention and everyday cleaning. This makes this type of flooring a really popular choice you can find in many London homes.
The only shortcoming here is that engineered resurfacing can't happen as often as hardwood sanding for example. Since the wood top layer is only 4 to 8 mm thick, resurfacing an engineered floor is a really precise and delicate job, consisting of removing only the finishing layer without affecting the bare wood if not damaged. That makes engineered floor sanding strictly professional service if you want to save your floor's beauty as long as possible. We are your great service option in London!
Let us tell you more about the sanding service itself. We admire the idea for customer's informed choice because this is the only way we can be sure we meet realistic expectations for our work and we can satisfy our client's desires. This is the reason we provide prior information. You can always ask your question on flooring topics you are interested in and we will share our knowledge, branch secrets and experience with you. Here we provide a short guide of engineered wood resurfacing for our London clients. Feel free to contact our customer service on 020 70360625 for further information.
The first step before sanding is preparation. It is really important because it prevents possible future issues and ensures a smooth and confident working system. Before starting with the sanding treatment we check out the floor's condition, including the moisture level. Inspecting for gaps and deep scratches, cracking, loose planks and nails. We provide excellent and affordable floor repair beforehand. That allows us to achieve the best results at refinishing later.
Although the sanding equipment we use is completely dust-free, we take extra care and provide furniture and doors translocation and dust sheets for the windows. We also use a great variety of sanding machines for even more precise results, so there are no challenging rooms for us!
Our engineered floor restoration is effective and super affordable. Have a look at our special offers and reduce even more the low price with a free estimate and site visits in London!
Keep in mind that the sanding service is the key to the perfect looking flooring. When the surface is not even and smooth, any upcoming sealing and staining can't save the day!
For maximum strength and durability we provide gap filling service. While structural gaps are left for more space for the wood to enlarge or shrink due to environmental changes, gaps caused by high traffic and wear and tear can grow into major issues.
If you feel you need more information, call on 020 70360625! Wood Floor Sanding London experts are ready to give you advice, tips and suggestions anytime!
Served Areas
City of London, Westminster
Barking and Dagenham, Havering, Newham, Tower Hamlets
Hackney, Redbridge, Waltham Forest
Barnet, Enfield, Haringey, Islington
Bexley, Bromley, Greenwich, Lewisham, Southwark
Kingston upon Thames, Merton, Richmond upon Thames, Wandsworth
Ealing, Hammersmith and Fulham, Hillingdon, Hounslow, Kensington and Chelsea