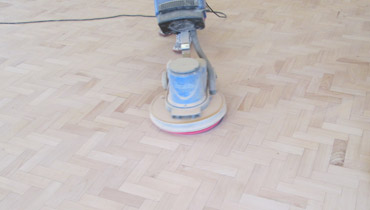 Parquet sanding is one of the most challenging in our branch. There are many reasons you would like your parquetry treated with care and attention. It is made from completely real wood blocks, which makes sanding possible to happen a few times in its life. The first reason comes with the mosaic construction and complex installation design this type of flooring has. Beautiful and detailed, parquetry patterns tend to be super challenging, because the wooden blocks are usually fitted in different directions and even diagonally for some style options. We don't neglect also the fact that parquetry can be made from specific wood types with finer structure and that requires extra attention when sanding starts. Don't worry, because we are here to help you with professionalism and attention on low cost.
We are on the London market for so many years, which gives us confidence and a good name, based on our hard work, accumulated knowledge, advanced methods, desire to improve and be progressive and the positive customers feedback we receive and which makes our clients network loyal and caring. We guarantee you excellent performance and amazing results in parquet restoration, so you can always count on us for your next floor renovation project in London, no matter domestic or commercial.
The paramount parquet sanding service we offer comes in a few stages. We welcome further questions and our experts don't believe in such a thing as an irrelevant question. Our main goal is to provide you with as much information on parquetry sanding as possible. We think the informed choice is the best choice and this is the only way we can meet realistic expectations. Feel free to contact our customer service for more information and take advantage of our special offers and ask for a free site visit in London.
The proper preparation is the key to every successful project and parquet blocks sanding is not an exception. By preparation, we mean that we provide great repair service for parquetry in bad condition. Hammering down any popping nail and screw heads, fixing loose blocks with high-quality adhesive or removing too damaged ones and finding the perfect match without losing the art line of the pattern. Scratches get invisible after the sanding, however, if there are deeper scratches and gaps, we provide excellent parquet floor repairs for a completely smooth and durable surface.
When we are sure your flooring in London is in good condition, it's time to start with a resurfacing procedure. We use a great selection of dust-free sanding equipment, which can handle even the most challenging rooms and angles. If needed, we also provide hand sanding for inaccessible areas. Parquet sanding creates a perfectly sleek and non-grain textured surface for the upcoming staining and sealing. For sealing and staining, we use only high quality and natural products, which will significant elongate the life and beauty of your flooring. For parquetry in London you will be proud of, get in touch with our customer support on - 020 70360625!
Served Areas
City of London, Westminster
Barking and Dagenham, Havering, Newham, Tower Hamlets
Hackney, Redbridge, Waltham Forest
Barnet, Enfield, Haringey, Islington
Bexley, Bromley, Greenwich, Lewisham, Southwark
Kingston upon Thames, Merton, Richmond upon Thames, Wandsworth
Ealing, Hammersmith and Fulham, Hillingdon, Hounslow, Kensington and Chelsea