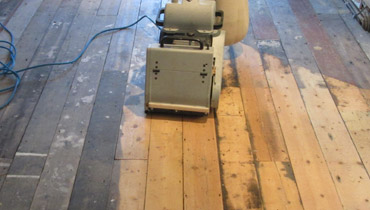 Elevate your space with the timeless beauty of solid wood flooring in London. Solid wood, known for its simple elegance and warm ambience, emerges as a stellar choice for flooring. Not only does it bestow a classic aesthetic, but it also offers ease of maintenance, durability, and longevity. The multifaceted and versatile nature of solid wood timbers provides the perfect canvas for showcasing bold furniture and eccentric decorations. When it's time to renew the allure of your solid wood floors, trust our expertise in solid wood floor sanding in London. Uncover the hidden potential of your floors by reaching out to us at 020 70360625.
Benefits of Solid Wood Planks
Embrace the unique charm of solid wood planks, a product crafted entirely from real wood, bringing a natural and one-of-a-kind rustic vibe to your home. Each plank tells a story, narrated through wood's genuine structure, pigmentation, texture, and tactile warmth, turning your floors into a captivating statement piece and the focal point of any room. However, to preserve the initial beauty that wood offers, occasional pampering is essential. Enter solid floor sanding – the ultimate SPA treatment for your floors. Think of it as a rejuvenating facelift, creating a smooth and sleek surface for the next chapter of your floor's story. Seize the opportunity to enhance your interior with our beneficial services. Book your solid wood floor sanding service in London now at 020 70360625.
Optimal sanding frequency for hardwood
One remarkable aspect of hardwood is its unique ability, distinct from engineered wood, to undergo more frequent sanding. This is attributed to its composition, being crafted entirely from genuine wood timbers. This inherent quality makes our solid wood restoration system an optimal choice for you. Whether it's a new installation in London or a well-worn floor in need of revitalisation, our solid wood floor sanding service is your solution.
Sanding, a transformative process involving state-of-the-art sandpaper machines, ensures that your hardwood receives meticulous attention, resulting in a perfectly smooth and leveled surface. Elevate your solid wood floors with our expert sanding services. Contact us today at 020 70360625 to experience the beauty of revitalised hardwood.
Why your floor needs sanding
Wondering why your solid wood floor needs sanding? Sanded floors are not only less prone to damage and dislocation over time but also exude a refreshed, vibrant look. The sanding process eliminates the worn, dull, and dirty top finish, preparing the bare wood surface for a pristine new coat. Moreover, treating your hardwood floors to the sanding process is akin to a renovation. It effectively erases fine and deeper scratches, acting as a preventive measure against wood cracking. Experience the transformative power of hardwood sanding with our staff in London. Beyond the initial resurfacing, our team offers additional services such as sealing and painting. The visual outcome is nothing short of remarkable – a brand-new, shiny, clean, and even more durable solid wood flooring that you can enjoy for a lifetime.
Why opt for us in London renovation projects?
Experience the latest in technology with our super modern, dust-free machines and top-tier quality products.
Enjoy a timely and efficient service at an affordable price, making your renovation project a hassle-free experience.
We leave no detail untouched, even offering hand sanding for those challenging angles and rooms.
Embrace an individualized approach as we prioritise and respect our clients' desires and needs.
Choose us for solid wood floor sanding
Turn your solid floor restoration dreams into reality with Wood Floor Sanding London! Connect with our customer service team via our website or call us at 020 70360625 for more details. Schedule a free site visit in London to kickstart your journey to revitalised and stunning floors.
Served Areas
City of London, Westminster
Barking and Dagenham, Havering, Newham, Tower Hamlets
Hackney, Redbridge, Waltham Forest
Barnet, Enfield, Haringey, Islington
Bexley, Bromley, Greenwich, Lewisham, Southwark
Kingston upon Thames, Merton, Richmond upon Thames, Wandsworth
Ealing, Hammersmith and Fulham, Hillingdon, Hounslow, Kensington and Chelsea