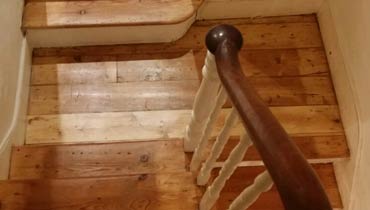 Stairs are an important and functional architecture component in every house. However, this is not the only duty of the staircases. Stairways can be a statement interior design piece and a focal point of the house such as flooring is an amazing background for decoration and different styles. And just like wood flooring, staircases can add cosiness and warmth to every house. Since this architectural part of the house suffers high traffic the most, it is surprising how stairs keep their good look for so long. But don't let the visual part mislead you. Even the slightest sign of a problem can escalate quickly in major flooring issue. What to do? We suggest our London clients a great maintenance strategy on affordable price and the first step of changing the worn and dull stairs flooring to attractive, durable and shiny is our stairs sanding service.
Staircase installation types vary widely and nowadays you can find a great diversity of designs. Stairways styles with one or two open sides, no open sides at all, hardwood timber installation over existing flooring or concrete... No matter what staircase style you prefer, we are here to help you with professional stairs restoration in London. This is a delicate and detailed job, which requires a lot of attention, because of the small space and the challenging angles and curves. We have a great selection of dust-free sanding equipment, including a more delicate one for stairs. Plus, when the case requires that, we provide even quality stairs restoration by hand for a complete change of the threads and the risers.
Stairs sanding by Wood Floor Sanding London is your best solution in London. When the hardwood timbers are treated by our experts, you get a completely smooth and sleek surface, which will take on the next layers of stain and sealants. What about the squeaky stairs, which drives you crazy? We have a solution! Stairs get squeaky because of the high traffic and aggressive environment, which makes the wood thinner. Sanding is the proper preparation for the upcoming floor sealing, which will make the wood extra durable and solid, because it removes only the old finishing layer and scratches and gaps, but doesn't affect the bare wood.
The next step to the perfect looking stairs is sealing and staining with a natural dye. We at Wood Floor Sanding London use first-class quality sealants to create a super long-lasting surface with a finish of your choice (glossy or matt). We cover the treads and risers with extremely hard-wearing wood floor sealing products since stairs survive high traffic daily.
Our experts welcome further questions with attention. If you feel you need more information or just want to make an appointment, just call us on 020 70360625.
Served Areas
City of London, Westminster
Barking and Dagenham, Havering, Newham, Tower Hamlets
Hackney, Redbridge, Waltham Forest
Barnet, Enfield, Haringey, Islington
Bexley, Bromley, Greenwich, Lewisham, Southwark
Kingston upon Thames, Merton, Richmond upon Thames, Wandsworth
Ealing, Hammersmith and Fulham, Hillingdon, Hounslow, Kensington and Chelsea